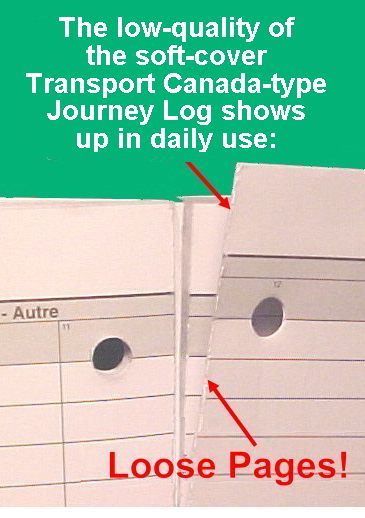 The Transport Canada Journey Log
This is a close-up of an actual Transport Canada TP-14089B Journey Log after only a few uses. This example was brought to us by an unhappy aircraft operator!
The AeroTransport Journey Log features an industry standard binding method used for heavy-use books such as hard-cover dictionaries and encyclopedias. AeroTransport's pages are guaranteed to stay in place for the life of the Journey Log!
Transport Canada's latest Journey Log has the dubious feature of un-numbered pages. This is an important consideration for aircraft owners concerned about maintaining a secure audit trail of aircraft usage. Un-numbered pages can be removed from the journey log, and nobody's the wiser. The AeroTransport Journey Log features numbered pages for maximum record-keeping security!